CMS Admissions
Please note: The admissions cycle for the 2023-2024 Academic Year has ended. Limited space may become available - please contact us to be added to our wait list.
Apply for the 2024-2025 Academic Year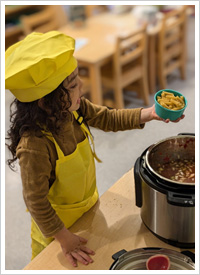 Please read the following before submitting an application. If you need help or have any questions, feel free to contact us.
School tours are only available to parents who have submitted an application.

In order to apply for the 2024-2025 Academic Year, children must have been born on or before November 1, 2021.

All children must be potty trained. Diapers and pull-ups are not allowed.

Students are not accepted on a first-come-first-served basis. Decisions are made only after the application process is complete and are based on maintaining a balanced classroom environment.

Returning students and siblings of former and current students who have attended CMS for at least 2 years are given priority.
How To Apply
Our three-step application process for the 2023-2024 Academic Year is below. Only those families who have completed all three steps will be considered for admission..
Beginning October 1st, 2023, submit our 2024-2025 Academic Year Application. Be sure to include the non-refundable, $50 application fee.

After we have reviewed your application, you will be contacted to schedule a tour of the classroom. This tour is for parents only, and allows you the opportunity to become more familiar with our program.

Once you have attended a tour, you will be contacted to set up a child visit, during which your child will interact with the Montessori Materials in a classroom setting.
Applications are due no later than January 31st, 2024.
Decision letters will be mailed by February 15th, 2024. Upon written notice of approval, a non-refundable holding fee of $2,800 is due, which is applied toward the year's tuition. Holding fees must be received no later than February 28th, 2024. Parents of children who have been placed on our waiting list will be contacted as space becomes available.
Register for Mindful Parenting Class
Spring '23 Session, March 4th through April 4th: $515
To attend Mindful Parenting Class, children must be between the ages of 6 months and 2 years at the start of class. Registration includes both our Mindful Parenting classes and Parent Support and Discussion groups. We do not offer refunds for any missed days.
Mindful Parenting Class
Classes are from 9am to 10:30am the following Saturdays:
Mar 4, Mar 11, Mar 18, Mar 25, and Apr 1
Parent Support and Discussion Group
Discussion groups are from 6:30-7:30pm on the following Tuesdays:
Mar 7, Mar 21, Apr 4
Registration for the spring '23 session of Mindful Parenting is now closed. Please check back for future dates!
Register for Summer at CMS
Summer at CMS is only offered to current students and students enrolled in an upcoming Academic Year.
For these students, registration forms are made available each Spring.